Extension Stats and Strengths
NC State Extension is the educational outreach unit of North Carolina's preeminent research enterprise – NC State University. Extension transforms science into everyday solutions for North Carolinians through programs and partnerships focused on agriculture and food, health and nutrition, and 4-H youth development.
At NC State, what we Think and Do helps grow North Carolina.
WHAT'S NEW?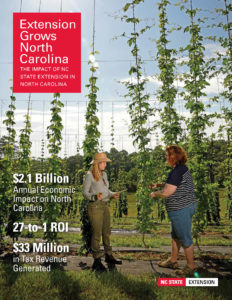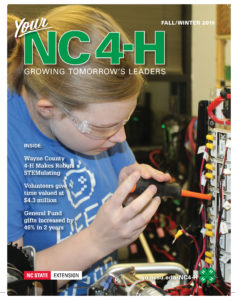 4-H Impacts Report (Fall/Winter 2019)
KEY FACTS & FIGURES
Extension is the largest non-formal educational outreach organization in the 17-campus UNC system.
101 local centers – an office in every county and with the Eastern Band of Cherokee
967 Extension professionals
1.8M direct contacts with North Carolinians
13,000+ programs

Extension's economic and functional impacts on the state are large in scale, with benefits of Extension financially eclipsing the cost of operations by many multiples.
$33M in annual tax revenue generated
1,456 jobs supported (direct employment with Extension and jobs supported by Extension expenditures)
$2.1B annual economic impact
Volunteers also play a key role in supporting our programs and helping NC State Extension to pursue local needs and opportunities. In 2018, our volunteers…
Contributed over 675,000 hours to assist in the delivery of Extension programs
Donated time and services worth $16.6 million in economic value
Cultivated over 1 million contacts with members of our local communities
IMPACT HANDOUTS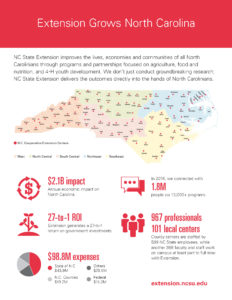 Extension is Everywhere | Impacts Handout 2018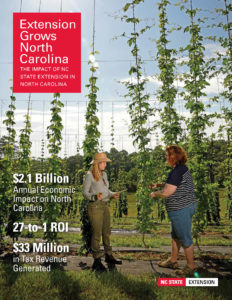 NC State Extension Impacts Booklet 2019 (Print version)
AGRICULTURE
FOOD & NUTRITION
4-H YOUTH DEVELOPMENT
NC State Extension keeps North Carolina's agriculture industry – the state's leading economic sector – growing and sustainable by connecting growers with research-based information and technology.
NC State Extension helps people make healthier decisions, reduce their risk of chronic disease and live better lives through programs from gardening and nutrition to local food systems and food safety.
Extension's 4-H program addresses the diverse issues and backgrounds of today's youth, helping to grow more than 225,000 youth into healthier, more involved citizens and future leaders.
590,300 face-to-face contacts

31,159 farms adopted Extension best management
practices

162,942 participants attended training programs

$1.6B annual economic impact generated by
research and Extension with just four crops – blueberries, soybeans, sweet potatoes and tobacco

3,236 Extension Master Gardener volunteers
287,282 face-to-face contacts

84,983 participants attended training programs

1,206 food service employees trained

19,013 North Carolinians
increased their physical activity

32,225 North Carolinians increased
their consumption of fresh fruits
and vegetables
399,902 face-to-face contacts

225,550 total 4-H'ers (12,284 attended 4-H camp)

141,685 youth gained
valuable knowledge in STEM fields

3,023 teachers used 4-H programs
in their classrooms in a year

39,780 youth increased their knowledge of career and employability skills
N.C. AGRICULTURE OVERVIEW & IMPACT
Agriculture is North Carolina's largest industry, generating $91.8B annually while generating roughly 17 percent of the state's workforce and gross state product.
The N.C. agriculture industry — including food, fiber and forestry — is the third most diverse agriculture economy in the country, with more than 80 commercial crops and a large animal agriculture presence.
686,000 jobs
48,000 farms
8.1M farm acres
#8 in farm income
Growing Rural Economies
Agriculture is especially important to rural N.C. counties, where farm gate values from our 80 Tier 1 and 2 counties account for more than 80% of the state's total farm receipts.
Extension creates opportunities and solutions that benefit our rural communities through job creation, building sustainable agriculture and local food economies, helping farmers increase productivity and profits, and preparing our youth to become confident, responsible stewards of the future.
In 2018, rural areas actually saw the fastest job growth rate of any other geographical zones. A few of Extension's contributions included…
Provided educational services to over 1M North Carolinians in ^Tier 1 and 2 counties (our most economically-distressed and often rural regions)
Our community and economic development programs led to the creation, retention or expansion of more than 60 local businesses, while helping over 1,200 people in rural counties increase their knowledge or skill in business-related areas
^The N.C. Department of Commerce assigns county tier designations based on economic development conditions, with Tier 1 representing the "most distressed" counties and Tier 3 the "least distressed."
More N.C. Agriculture Resources
PAST REPORTS