Extension Stats and Strengths
NC State Extension is the educational outreach provider of North Carolina's preeminent research enterprise – NC State University.
Our mission is to create prosperity for North Carolina through programs and partnerships focused on agriculture, food and nutrition, and 4-H youth development.
KEY FACTS & FIGURES
Extension is the largest non-formal educational outreach organization in the 17-campus UNC system.
101 local centers – an office in every county and with the Eastern Band of Cherokee
773 Extension professionals
1.8M contacts with North Carolinians
Nearly 13,000 programs
$264.4M annual economic impact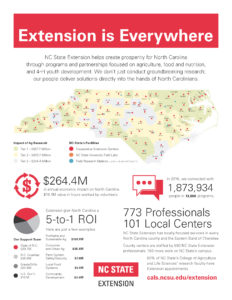 Extension is Everywhere | Impacts Handout 2016
AGRICULTURE
FOOD & NUTRITION
4-H YOUTH DEVELOPMENT
NC State Extension connects growers with research-based information and technology, which helps keep the $84 billion N.C. agriculture industry growing and sustainable.
Extension educational programs range from local foods and home gardening to food safety and food preservation. We help people make healthier decisions and live better lives.
Extension's 4-H program is the largest youth development organization in North Carolina. We help over 247,000 young people grow into active, contributing citizens each year.
763,441 face-to-face contacts
58,416 consumers increased
awareness of the value of
local agriculture
4,140 Master Gardener volunteers
63,929 crop producers adopted
best management practices
$84 billion value of
N.C. agriculture industry
327,966 face-to-face contacts
1,955 food service employees trained
60,704 Steps to Health
educational contacts
2,000 Eat Smart, Move More,
Weigh Less participants
29,802 North Carolinians increased
their consumption of fresh fruits
and vegetables
422,498 face-to-face contacts
196,843 hours donated
by 4-H volunteers
247,000+ 4-H'ers
16,997 attended 4-H camp
4,495 teachers used 4-H programs
in their classrooms in a year
132,970 youth gained more
knowledge in STEM (Science,
Technology, Engineering, Math)
N.C. Agriculture Industry
Agriculture and agribusiness — food, fiber and forestry — account for one-sixth of the state's income and employees. Almost 17 percent, or nearly $84 billion of the $495 billion gross state product, is contributed by food, fiber and forestry industries. These industries account for 686,000 of the state's 4.2 million employees.
N.C. Agriculture and Agribusiness Report Handout (May 2017)
PAST REPORTS
Was the information on this page helpful?