Extension Stats and Strengths
NC State Extension is the educational outreach provider of North Carolina's preeminent research enterprise – NC State University.
Our mission is to grow a more prosperous North Carolina through research-based programs and partnerships that focus on agriculture, food and nutrition, and 4-H youth development.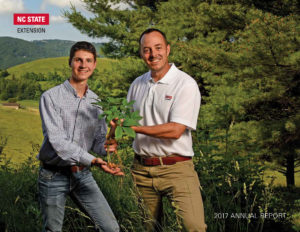 KEY FACTS & FIGURES
Extension is the largest non-formal educational outreach organization in the 17-campus UNC system.
101 local centers – an office in every county and with the Eastern Band of Cherokee
812 Extension professionals
1.9M contacts with North Carolinians
13,000+ programs
Roughly $300M annual economic impact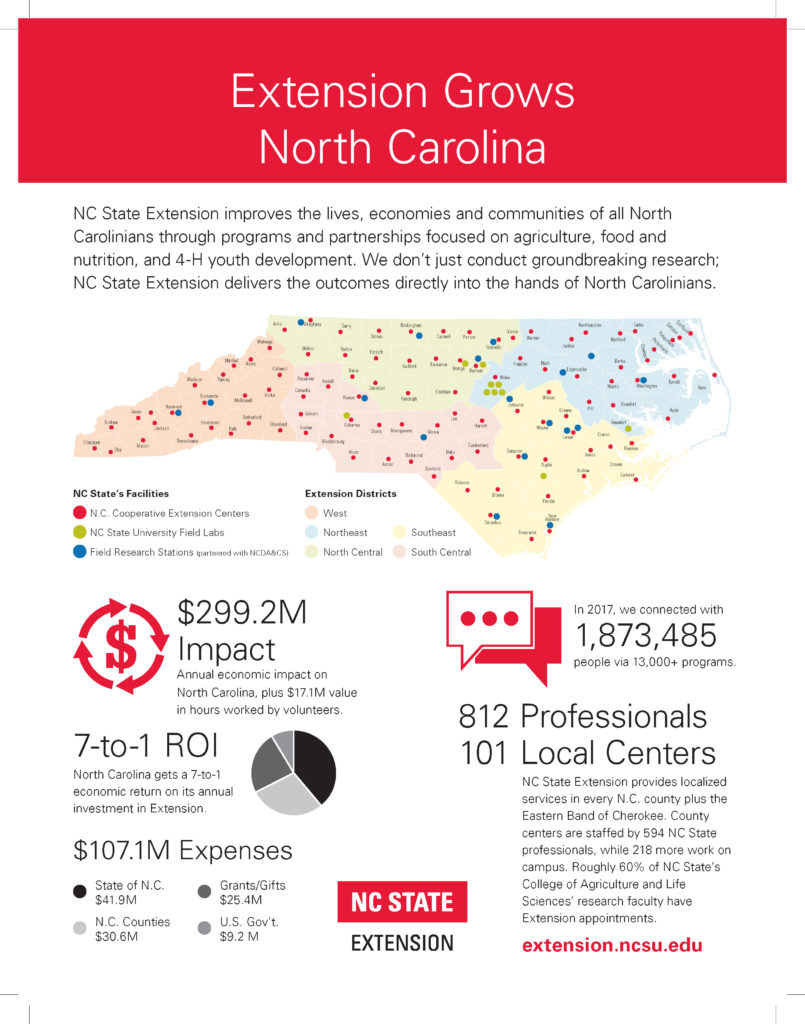 Extension is Everywhere | Impacts Handout 2017
AGRICULTURE
FOOD & NUTRITION
4-H YOUTH DEVELOPMENT
NC State Extension keeps North Carolina's agriculture industry – the state's leading economic sector – growing and sustainable by connecting growers with research-based information and technology.
NC State Extension helps people make healthier decisions and live better lives through programs that range from home
gardening and healthy eating to local food systems and food safety.
Extension's 4-H program addresses the diverse issues and backgrounds of today's youth, harvest
impacting more than 263,000 youth through efforts that build healthier, more involved citizens and future leaders.
691,580 face-to-face contacts

225,219 producers adopted Extension best management
practices

$116.5M resulting net income gains by producers

4,333 Extension Master Gardener volunteers

$1.67B annual economic impact generated by
research and Extension with just five crops –
tobacco, sweet potatoes, cotton, blueberries and
soybeans

$84B value of
N.C. agriculture industry
319,048 face-to-face contacts

114,962 participants attended training programs

1,265 food service employees trained

67,843 Steps to Health
(SNAP-Ed) educational contacts

49,030 North Carolinians increased
their consumption of fresh fruits
and vegetables
478,013 face-to-face contacts

263,742 total 4-H'ers (10,807 attended 4-H camp)

214,462 hours donated
by 4-H volunteers

3,740 teachers used 4-H programs
in their classrooms in a year

45,115 youth increased their knowledge of career and employability skills
N.C. AGRICULTURE OVERVIEW & IMPACT
Agriculture built North Carolina, and it remains our state's top industry – $84B annually – growing to an estimated $100B by 2020. The agriculture industry — including food, fiber and forestry — account for one-sixth of the state's income and employees, while contributing nearly 17 percent of North Carolina's $495 billion gross state product. These industries account for 686,000 of the state's 4.2 million employees.
Agriculture is especially important to rural N.C. counties, where farm gate values from our 80 Tier 1 and 2 counties account for 83% of the state's
total farm receipts. NC State Extension and the College of Agriculture and Life Sciences (CALS) discover, improve and implement solutions so rural North Carolina succeeds.
PAST REPORTS