Local Foods Week ~ Saturday September 30
Family First Block Party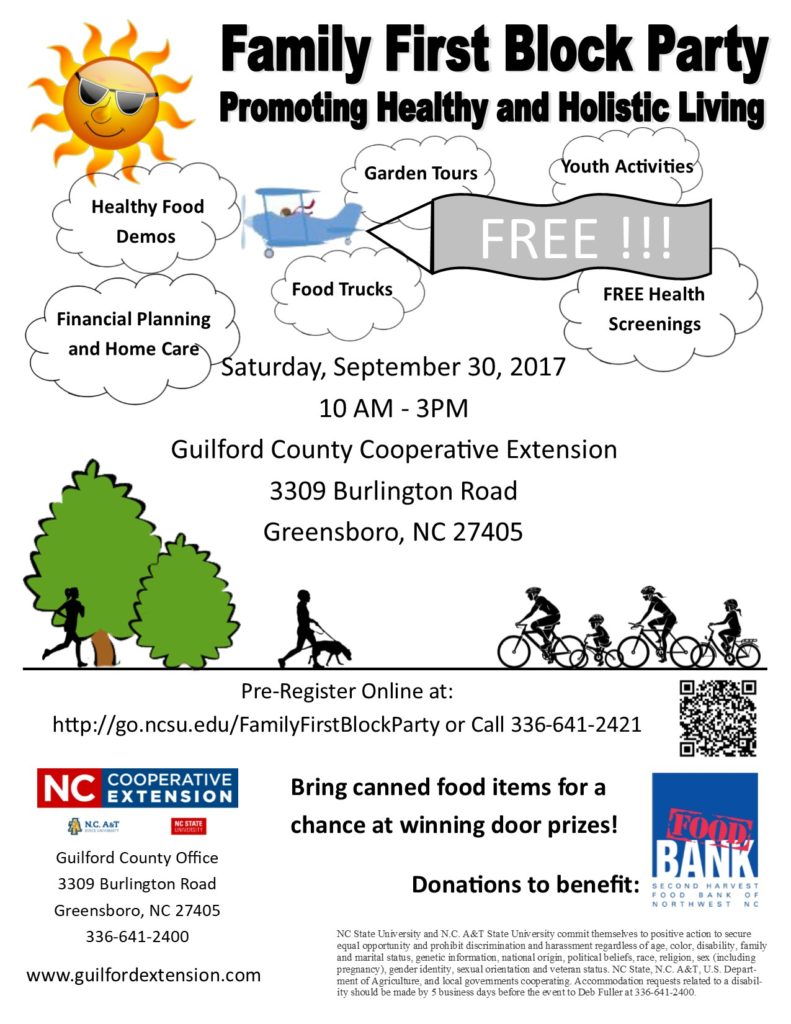 10:00 AM – 3:00 PM
3309 Burlington Road
Greensboro, NC 27405
Bring canned food for Second Harvest Food Bank for a chance to win a Raffle Basket!
Childrens' Activities
Food Trucks
Free Health Screenings
Demonstrations
Click Here to pre-Register online.
Visit the Curb Market
The curb market celebrates local food every week, year-round on Saturdays and Wednesday (April – December), by supporting more than 56 farmers all from within 100 miles of Greensboro. As a growers and producers only market, patrons can meet their farmers first hand and learn about their growing practices, from traditional field grown, greenhouse and hydroponic (water) techniques.
Scheduled events during Guilford Local Food Week:
Saturday, September 30:
Market is open from 7am – 12pm.
Market overview and tours will be available at 8am, 9am, 10am and 11am.
Cooks Corner demonstration kitchen will host a live cooking class and tasting with chef Dani Black of Bigger Tables from 10am – 11am, which will highlight seasonal ingredients available.
Self-directed scavenger hunts will be available for adults 21+, to include a stop at the wine vendor!
Self-directed scavenger hunts will be available for children and families
Fresh coffee from Gate City Coffee and hot doughnuts from Yee Haw will be available as well.
First time visitors to the market that choose to participate in the tours will be entered into a drawing for a free market tote bag. To participate in events, please check in at the tent on the lawn.
Taste the Market event
As part of Guilford Local Foods Celebration, The Corner Farmer's Market is offering a smorgasbord of tasty samples from across the market. Our vendors will showcase their items and we will explore pairings and recipes made with their local meats, produce and baked goods.
Taste the Market will take place from 9 a.m. to noon on Saturday, September 30, 2017.
The Corner Farmer's Market (www.cornermarketgso.com) is a year-round Saturday market in the parking lot of Sticks and Stones restaurant at the intersection of Walker and South Elam Avenues in Greensboro.
Taste the Market is free and open to the public.
For further information regarding this event, please contact Kathy Newsom, (336) 558-6924, or kathy@cornermarketgso.com
Was the information on this page helpful?