Embryology
Embryology programs should be conducted in collaboration with North Carolina Cooperative Extension Service and 4H programs.
For more information email: rlbarne2@ncsu.edu
The current charges are $4.00 per dozen with a minimum purchase of $20.00. Please make checks payable to North Carolina State University and note "chick embryology" in the memo line.
With every egg order, a signed letter of recommendation will be required.
Virtual Chicken – This video illustrates the female reproductive tract of a hen and details a developing egg from the ovary to the nest. Funded by a USDA Education Challenge Grant through Auburn University.
Embryo Development– From Fertilization to hatch. Distributed by Poultry Hub Australia
Heart Beating on 3-day embryo – Show the heart beating early on day 3 of incubation.
Embryology in the Classroom is a national site developed to support the new National 4HCCS Embryology curriculum released in 2001. Educators will find it extremely helpful as a resource for teaching embryology in the classroom.
Penn State Extension 4-H Poultry  –  http://extension.psu.edu/4-h/projects/poultry

Incubation and Embryology is designed by University of Illinois Extension to provide elementary and high school teachers with knowledge of the chicken's egg, its importance to man, and its role in reproduction of the species. Suggestions on how to use classroom incubation and embryonic development projects to enhance programs in science, language arts, mathematics, social studies, and art will be offered.
Chickscope by the University of Illinois Urbana Champaign has some good material on embryology in the classroom and building your own incubators.
Purdue University Avian Sciences -http://ag.ansc.purdue.edu/poultry/
Egg Structure        Embryo Anatomy        Oviduct Anatomy
"Embryology in the Classroom"   – by Penn State Extension. A resource for teaching embryology in the classroom.
Incubation Troubleshooting – http://www.urbanext.uiuc.edu/eggs/res24-00.html  Common incubation troubleshooting issues.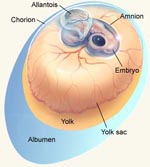 Good List of RESOURCES – http://www.urbanext.uiuc.edu/eggs/res00-index.html
from the Univ. of Illinois Embryology and Incubation website.
Was the information on this page helpful?